ARCADE for STRING QUARTET 
Recording
Performers: Bergamot Quartet

Score Link
PROGRAM NOTes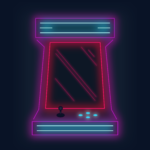 This quartet is inspired by the overwhelming sensory experience of an arcade—the barrage of neon lights, the competing array of music and sound effects, and the persistent mechanical crunch of buttons. Musically, this hyperactivity is realized with a frenetically paced harmonic rhythm, where the chords often change every sixteenth note, and an intense style of bowing, where the musicians double the number of bow strokes in already fast sections. The piece also mimics the formal structure of gameplay, where levels are failed and must be replayed. After the first time through, the quartet refines the opening material and discovers new pathways, taking the listener to new levels.
VINYL for CHAMBER ORCHESTRA
Recording
Performers: Alarm Will Sound
SCORE
Program Notes
All recorded music is altered by the medium of its delivery. Most cassette tapes restrict high frequencies and digital mp3 files compress the original audio to its bare essentials. This piece is built around the peculiar alterations associated with vinyl records. The opening music jumps quickly between a variety of sounds, imitating the skipping that occurs when a needle is knocked out of a groove. Much of this material also includes small pitch fluctuations that imitate the sound of a warped vinyl. Later in the piece, the tempo and pitch both steadily increase during a long build as if the speed dial were being slowly changed from the setting for a 33 rpm vinyl to a 45 rpm. And finally, at the climax of the piece, the strings and woodwinds resonate strongly with a few fluctuations in energy, while the brass play at extreme volumes to represent the artifacts and distortion associated with a worn record or dull stylus.
SYNTHETIC TWIN for PERCUSSION QUARTET AND ELECTRONICS
Recording
Performers: Sandbox Percussion

Score Link
PROGRAM NOTes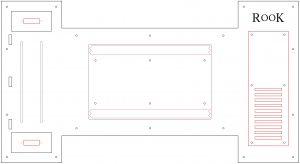 Synthetic Twin is an exploration of physicality and communication in music. The sound world is entirely electronic, generated from two instruments designed specifically for this piece. These instruments, called Rooks, are an extension of standard performance techniques for percussionists. Infrared sensors interpret hand movement, while a contact microphone provides subtle rhythmic control. Spatially, the quartet is divided into pairs with two performers standing on either side of each instrument. This orientation creates two "twin" layers. Each individual pair can rely on visual and gestural communication, while the pairs collectively must use sonic cues to effectively generate the music.
MORE WORKS AVAILABLE HERE